unpacked


Full-Stack GraphQL
with

Absinthe

,

Phoenix

, and

React
a design and code exploration
👆 Here's a 2-minute overview of the app we built
GraphQL is revolutionizing the way developers build APIs. Gone are the days when the server decided the shape of the response data. GraphQL puts the client in control so it can fetch exactly the data it needs and nothing more.
Which got us wondering: What does it take to put together a full-stack GraphQL app using
React with Apollo on the frontend,

the Absinthe GraphQL toolkit for Elixir, and

Phoenix as the backend server?
To answer that, we did a ton of research, built a full-featured GraphQL application, and had it tech reviewed by a co-creator of Absinthe. Now we would love to help YOU get up to speed with GraphQL!
Sound interesting?
Vote for this course!
If we get enough interest, we'll make this the next course in our Unpacked series and we'll send you a coupon!
It's an expressive query language for your API that blah, blah, blah...
Indeed, our eyes glazed over every time we tried to write a definition for you. So we decided to take a different approach!
In this short animation, you'll see what GraphQL is!
GraphQL lets you query your data, but there's so much more...
In this 5-minute video, you'll see GraphQL queries, mutations, and subscriptions in action!
What Does Unpacked Mean?
You're beyond a step-by-step intro course.
Step-by-step introductory courses are great for learning syntax, vocabulary, and basic concepts. But once you've got the fundamentals down, as an experienced developer your time is better spent:
dissecting a full-stack application layer by layer without the tedious typing of all the code

focusing on the design, architecture, and actual implementation of a solid application

diving deep into the interesting parts of a complete, feature-rich application
In other words, we unpack apps in our Studio so you can put them together in yours!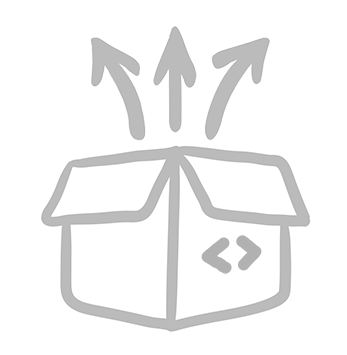 For Experienced Developers
This course is for experienced Elixir, Phoenix, React developers who are:
Curious about GraphQL. You've heard about it, and perhaps even noticed that some of your favorite platforms now support a GraphQL API. But you're wondering what all the hoopla is about. You need someone to cut through the hype and walk you through a pragmatic example of a GraphQL API and a frontend that uses it. In other words, you're looking to keep up to date with modern API development.

Considering if GraphQL is a good fit for your application and team. You're already using the Elixir/OTP platform to good effect: it's robust, scalable, and fast! But perhaps your RESTful API isn't quite as flexible or maintainable as you'd like. Or maybe you're developing a new API from scratch and want to explore what GraphQL can do for you.

Creating a full-stack GraphQL application and want a jumpstart. No need to get bogged down in figuring out how to put all the pieces together yourself. Save time and frustration by using our full-stack application as a springboard for creating your own app!
Still not sure if this course is for you? Ask us!
New to Elixir and OTP? We've got you covered! Our 6.5-hour video course will help you master functional programming the Elixir way and take advantage of the power of OTP.
While you're waiting for this course, find out how to put together a full-stack, channel-based application that lets you compete at buzzword bingo with multiple players in real time.
Bruce Williams is the co-creator/maintainer of the Absinthe project, the GraphQL toolkit for Elixir, and co-author of "Craft GraphQL APIs in Elixir with Absinthe," published by The Pragmatic Bookshelf in 2018.
Many thanks to Bruce for reviewing the application code! His unique insights and suggestions based on hard-earned experience with GraphQL were instrumental in the design of this course.
Created by Mike and Nicole
Hi, we're real people just trying to share our passion for creating stuff!
You may be familiar with our step-by-step courses on Ruby, Rails, Elixir, and Elm. But what happens when you smash (pragmatically, of course) different languages, technologies, and frameworks together? Well, working at the system level gives you the power to create some very cool applications! We're excited to unpack these kinds of applications with you in the Studio. Find out more about us…