Phoenix
LiveView
The best way to learn what Phoenix LiveView can do is to see it in action!
When it comes to a new technology, there are few things more frustrating than hearing "it's a game-changer!" but having no idea:
What It Is

How Does It Work

What Can I Do With It
So let's get real. As in a really clear and practical understanding of what's up with LiveView. Then you'll know for certain if it's right for you and, if so, how to use it in your project.
"This is an awesome course! I really appreciate the way you build up the knowledge bit by bit. I'm already

feeling confident to go out and use LiveView in my own projects

."
This free LiveView video course focuses on two things: explanations and examples.
Nothing is left behind the scenes as "magic." You'll get a clear understanding and solid mental model of:
the overall programming model

what's on the wire (WebSocket)

how LiveView works under the hood
The 15+ real-life examples explore how LiveView neatly solves all sorts of common UI challenges including:
dynamic and live-validated forms

search and autocomplete

filtering, sorting, and pagination

real-time notifications

and more!
All Phoenix developers can meaningfully improve their apps (and their lives!) by having LiveView available in their toolbox. By seeing LiveView used in many diverse situations, you'll quickly build up a strong intuition for when and how to use it. And you can slip the examples right into your own app!
"This course is fantastic! It has helped me understand LiveView so much better. I love how you

not only show us how to do the LiveView stuff but also explain the mechanisms behind it

."
Get the course today and find out how LiveView brings the heat without any of the burn!
High-Quality Videos
Streamable and downloadable, DRM-free videos on any device. English subtitles on each video.
Exercises and Notes
Each video has hands-on exercises, supplemental notes, alternate design techniques, and handy tips and tricks.
Source Code
Includes Git branches for the beginning and ending of each LiveView example.
Instant and Forever Access
No monthly subscription or time limit. Start when you want and repeat as often as you like!
New to LiveView? Here's the quick lowdown.
LiveView enables you to build Phoenix apps with interactive, real-time user experiences without writing JavaScript. The results are dramatic and game-changing:
both client and server in sync, always and seamlessly

persistent connections highly-optimized for web scale

robust and resilient UIs so you can rock and roll

a unified code base that's easier to maintain

no custom JavaScript or external dependencies
Oh yeah, and LiveView also has a simple (almost addictive) programming model which makes it a really fun library to use.
But reading about LiveView doesn't come close to seeing it in action. So the first video in the course compares and contrasts LiveView with something you already know:
Course Outline
Videos just the way you like 'em: easy to digest, straight to the point, and paced for experience developers.
👇 These videos are complete and part of early access: 👇
See how LiveView is different from other common approaches to building interactive, real-time features.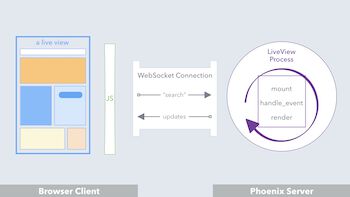 Build a basic LiveView from scratch to see how to react to user events.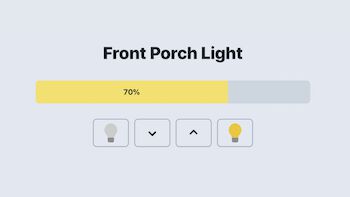 A deep-dive exploration of the lifecycle of a LiveView and what's on the wire.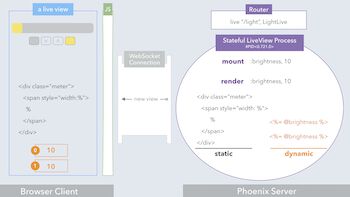 React to dynamically-changing form data.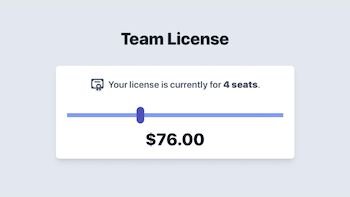 Update a dashboard on a periodic interval.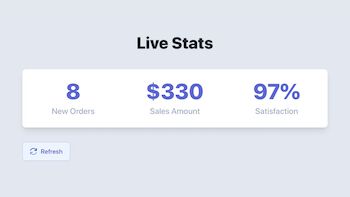 Search an Ecto repo and see results without a full page reload.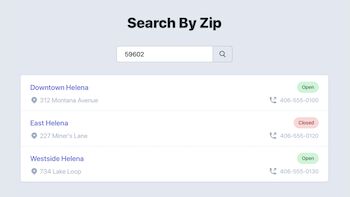 Automatically make suggestions for text input fields.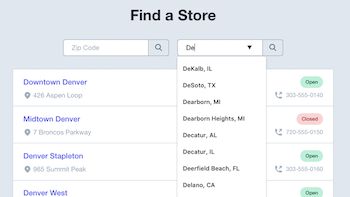 Filter data with LiveView and get snappy results.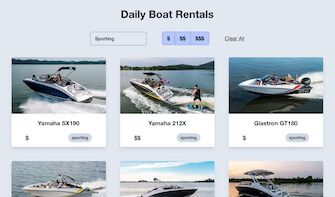 9
Example: Live Navigation
Navigate between pages using pushState.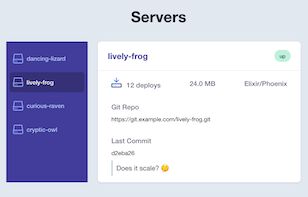 Page through Ecto results, keeping the URL updated so pages can be bookmarked.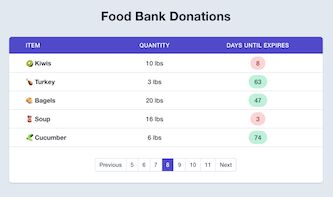 Sort tabular data without a full page reload.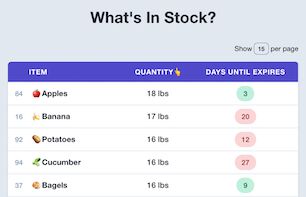 Dynamically create data from a form using Ecto changesets.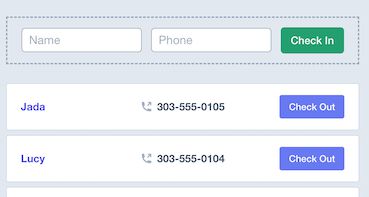 13
Example: Live Validations
Validate form data in real-time based on Ecto schema validations.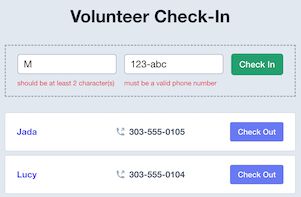 14
Example: Toggling State
Toggle a bit of state in a quick and easy way.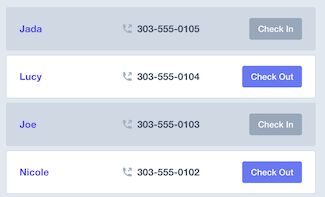 15
Example: Real-Time Updates
Use Phoenix PubSub to push out real-time updates across multiple browser sessions.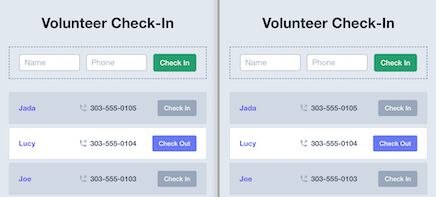 👇 These videos are in development and will be released incrementally: 👇
16
Example: Live Components
Get familiar with stateless and stateful LiveComponents, how they work, and when and why to use them.
17
Example: JavaScript Interop
An intro to integrating with third-party JavaScript libraries.
"I really like the structure of this course (the git repo, course outline, and notes after each step).

The pacing and flow have been just right for my Elixir knowledge.

And the video length is just right for my tea breaks from my day job. ;)"
For Experienced Developers
To keep this course focused and paced just right, we assume you're already familiar with Elixir and Phoenix.
If you're new to Elixir, our Elixir and OTP course is the most approachable introduction out there. Start here to get the clarity and confidence to jump right into LiveView.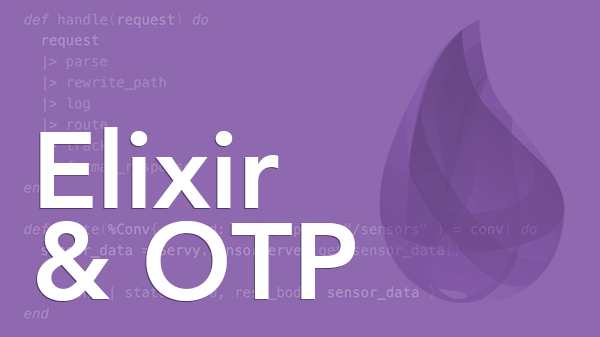 If you've been around the block with Elixir and Phoenix, discover how Absinthe makes building a GraphQL API a breeze for Elixir developers in our Full-Stack GraphQL course.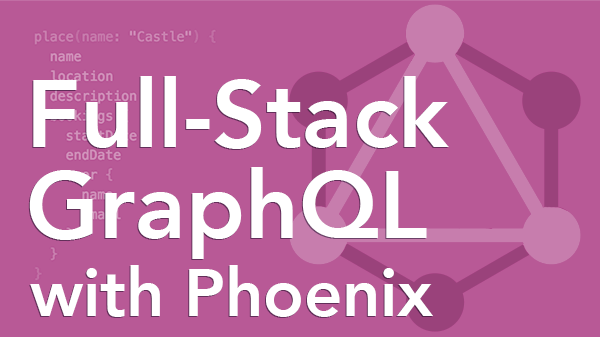 Created with 💛 by
Mike and Nicole Clark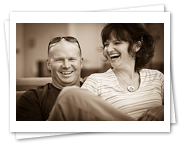 We've been using Elixir and Phoenix since their early days. Over the past few years we've created three Elixir and Phoenix-related courses: Elixir and OTP, Multi-Player Bingo, and Full-Stack GraphQL.
Last year we started working on a Phoenix course, and as LiveView began to heat up we knew it would play a big role in the course. So a few months ago we immersed ourselves in LiveView. The simple programming model makes it a really fun and effective library to use. 🎉 We enjoyed it so much, in fact, that we couldn't stop using it to build all sorts of interactive UI features that traditionally require custom JavaScript. And we were blown away by the results.
After building a dozen or so of these features, we realized they wouldn't all make sense in the application we created for the Phoenix course. Some of the LiveView examples would end up on the cutting room floor. 😓 But then we thought, "Hey, we could turn this into a fun and practical mini-course!" So that's exactly what we're doing! We hope you enjoy it. 😀
With Help From An Awesome Tech Reviewer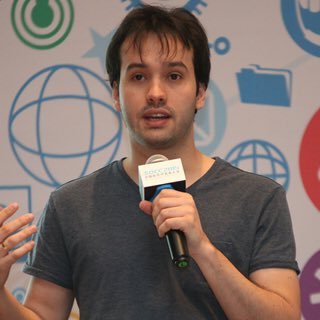 José Valim is the creator of the Elixir programming language, co-creator of Phoenix LiveView, and Chief Adoption Officer at Dashbit.
We're super thankful for José's support of this project. His review of early drafts of our animations was instrumental in helping highlight and clarify what's unique about LiveView. Thanks, José!
💥 This Course Is A Hit! 💥
"If you want to learn more why Phoenix LiveView is such a game changer for writing interactive and real-time applications, the @pragmaticstudio folks put together a short and sweet 4-min video on it."

José Valim

, co-creator of Phoenix LiveView
"Top notch care given to the details and

explaining how the magic happens

. Thanks to @clarkware and Nicole for stitching this together."

Yeong Sheng
"The best way to learn what Phoenix LiveView can do is to

see it in action

, like on this free course from @pragmaticstudio."

Marko Honkanen
"This is the best online course experience I've ever had. The

examples are VERY helpful and I love the challenges after the video too

." Lauren Fackler
"Holy moly! You have the

best walkthroughs, explanations and tips

from any videos I've seen about this beautiful piece of technology. It's an invaluable resource!" Clemens Müller
"I love the clarity of the explanations and how well they

explain what happens under the hood

. Also like the real-life examples. I already had some experience with Liveview but not the time to dive into how it works behind the scene. Very interesting!" Thomas Galibert
"This is by far the best course I've ever watched! Each section is

easy to digest and comprehend

." Bert Cammayo
"

It's been a very long time since I've had this much fun learning something.

The explanations are SUPER clear and easy to remember. It's all very impressive!" Felix Borzik
"Your courses are really top notch! The LiveView examples are

excellent real-world examples

of interactive items you would find on a web application." Tony Hanusiak
"I've enjoyed getting

a more practical grasp of LiveView

together with an understanding of the way it works. Thanks!" Jukka Välimaa
"

The balance between theory and practice is spot on, and the use cases are very helpful.

I also really enjoyed the part where you dig into the diffs for each socket message and how that builds the DOM. Great work!" Toni
"Really fantastic course! I'm enjoying the "real-life" components rather than just another counter example. The explanations are very in-depth and I feel like

I am getting a greater understanding of LiveView

." Aidan Barrett
"I really like the

great explanations of the overall programming model

, what's happening on the wire, and how to debug that. The videos and exercises are well balanced!" Callum McIntyre
"This is an awesome course! I really appreciate the way you build up the knowledge bit by bit. I'm already

feeling confident to go out and use LiveView in my own projects

." Jaime Iniesta
"This course is fantastic! It has

helped me understand LiveView so much better

. I love how you not only show us how to do the LiveView stuff but also

explain the mechanisms behind it

." Julien Crevits
"The graphical explanation is awesome!! It helped me

better understand all the heavy lifting Live View does for us

."

Joaquin Alcerro
"This is great tech, so good of @pragmaticstudio to release the early access course. That's going to

lead to some amazing things being built!

"

Peck
"I finished all 8 sections of @pragmaticstudio's free(!) Phoenix LiveView course released so far.

I couldn't recommend it more highly.

If you haven't learned Elixir, I also highly recommend their Developing with Elixir/OTP course."

Daryl Spitzer
"I really enjoyed the LiveView life cycle video. Your

explanations are fantastic

as usual!" Juan Cervera
"The graphics and animations are excellent! Your

explanations very much aid my understanding

. It's very engaging too." Napoleon Ahiable
"I just watched the first few videos and your explanation of how mount is called twice, and how it sends the diff down the wire—

perfect!

" David Alm
"As an introduction to LiveView this course is super cool! 👍🏻 It's a

very nice explanation of the fundamentals

." Jiří Erhart
"I really like the structure of this course (the git repo, course outline, and notes after each step).

The pacing and flow have been just right

for my Elixir knowledge. And the video length is just right for my tea breaks from my day job. ;)" Jon Hancock
"I've been writing Elixir for a few years and had a hard time wrapping my mind around the LiveView programming model.

Your course gave me the know-how and confidence to get a couple of LiveViews configured and running in our production Phoenix app!

" Matthew Lehner
"You folks are wizards! Over the past year or so, I became quite interested in Phoenix LiveView and really want to learn it well.

Your course has been very illuminating, helpful, and refreshing!

" Mark Johnson
"Just watched the first batch of @pragmaticstudio @elixirphoenix LiveView videos, and they're

amazing

!"

James Lavin