Hi, we're Mike and Nicole Clark!
We love to use our ideas and creativity to inspire and empower developers to build things that improve the lives of others. We create all the video courses from scratch ourselves, and keep all the biz stuff hummin' along.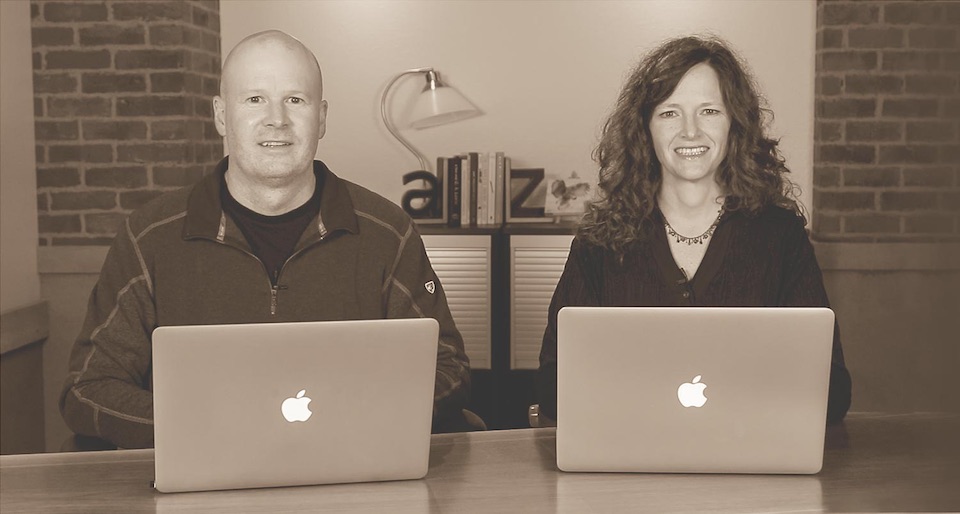 Here are a few things you might like to know about us and our approach to training:
We're a two-person company, privately-owned and operated.

We named our company The Pragmatic Studio because we believe the best software developers have a lot in common with artists and a studio is a workroom where artists practice and improve their craft.

We got started in 2005 by offering the first-ever public Ruby on Rails course. Alumni of that course are highly-regarded "Golden Spike Members".

Between 2005 and 2013, we held over 100 public classes in 14 cities on 11 various topics with 15 different sets of instructors. Alongside our instructors, we've also had the privilege of teaching hundreds of private classes offered on-site at companies around the world.

Over 2,500 developers have attended at least one of our in-person courses, and tens of thousands more have taken our online courses.

We're convinced that real learning happens when you build real applications in a real development environment. That's why our courses are project-driven and you complete the exercises on your own computer.

We believe that learning a new skill or language or tool is good, but being able to apply that new skill to a real-world need is far more gratifying.

Building and delivering a real application requires learning more than syntax, libraries, and APIs. To effectively craft a high-quality application you also need to know how to start your project, what makes a good design, and how to adjust when requirements change. So that's the approach we take in our project-driven courses where you'll learn how to confidently build apps with the right tools and the right techniques.

Our courses are unique because we break down complex topics into understandable chunks through the use of a mix of media types: screencasts, animations, text, and exercises. One concept at a time. One clear explanation at a time. One "AHA!" moment at a time.

Our alumni amaze us every day with the apps they build, the feedback they send our way, and the leadership they show in their communities.

As a tiny company without a lot of distractions or overhead, we're able to focus on what's important: creating high-quality courses, delivering exceptional customer service, and building long-term relationships with our students.

We specialize in teaching a small set of topics that we know super well, use regularly, and that make us happy!

We bootstrapped the business from personal savings and a lot of sweat equity. We've always been free from the constraints of debt and VC funding.

Each year we donate 15% of profits to our favorite charities.

We strive every day to follow the teachings of Christ: to act justly, love mercy, and walk humbly with our God. And every day we fall short. We are works in progress, in need of His abundant grace and love.
We hope to meet you in the Studio!