It's Live: LiveView Pro Package Early Access!
January 14, 2021
Howdy Friends,
It's official: early access is now open for the Pro Package of our Phoenix LiveView course. So now you can get the course in two flavors…
The Starter Package
Wondering what LiveView is all about? Want to cut through the hype and see real-life examples of what it can do?
The Starter Package is where you should, well, start! We're offering it as a 100% free community resource with no strings attached. It's our gift to you. 🎁
You get 18 videos and 25 exercises showing you exactly how to start using LiveView to build rich, real-time user experiences with server-rendered HTML.
The Pro Package
Curious what other problems LiveView can help you solve? Considering using it on your project?
The Pro Package picks up where the Starter Package leaves off and gives you more LiveView examples you can slip right into your application.
As of today, with early access you get 18 more videos and 19 more exercises. And that's just the beginning: more pro-level content is on the way!
By purchasing this upgrade at the special early access price of $99, you can dive into the Pro Package today and get a steady diet of new sections until we've finished the course.
If just one video or example saves you an hour of time, it's worth it! We've done all the work and research for you. 🤓
Also, by upgrading to the Pro Package you'll allow us to continue offering the Starter Package as a free community resource. You'll also help make this a sustainable endeavor for the two of us because, as we all know, LiveView will change. Your support will allow us to offer free updates to this course as necessary. 🙏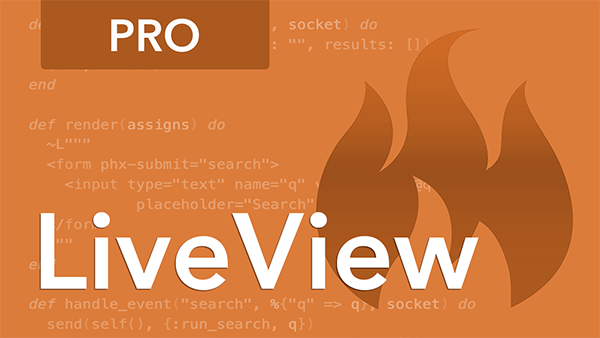 Start the course today to find out how LiveView brings the heat without any of the burn!
Thanks for continuing to support our work. 💚