Rails Guidebook Donations
June 26, 2006
Rails Guidebook exceeded our expectations in every way. Over 100 folks turned up the day before RailsConf for a guided tour of Ruby and Rails to help get the most out of the rest of the conference.
Rather than charge a fixed price for admission to the event, we decided to try something a bit different: let attendees donate online to a list of charities as they saw fit. And wow did they give generously! Over $8,000 was raised for 10 great causes!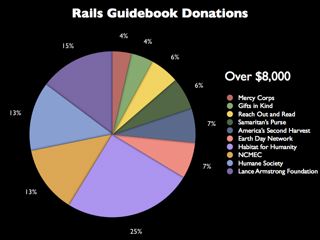 The giving didn't stop there. A whole bunch of people, including members of the Rails Core Team, volunteered their time to answer questions, help folks get Rails installed, and generally help keep the event rolling along smoothly all day. And it wouldn't have been possible without Ruby Central providing the facility.
We're already planning another Guidebook at next year's RailsConf with the help of O'Reilly. Indeed, we'd like to make this a tradition of RailsConf. And we're challenging other conferences to offer charitable events for their communities, as well. Clearly folks want to help make a difference.
It was truly a community event, and I hope everyone involved feels proud for being a part of it. Many, many thanks to all of you!